Alumna Maggie Kane Has Found Her 'Place at the Table'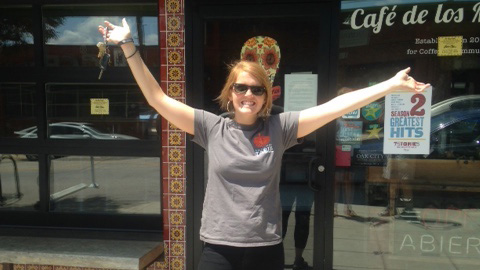 For Maggie Kane, breaking bread is a chance to build a community. But when she noticed the obvious economic divide between those who dine at restaurants and those who rely on soup kitchens, she decided to take action. The result is A Place at the Table, Raleigh's first pay-what-you-can cafe, set to open in January 2018. 
Kane, who earned her international studies degree from NC State in 2013, was working with people experiencing homelessness in downtown Raleigh in 2015 when she began researching nonprofit restaurants in places like Salt Lake City, Denver and Boone, N.C. That's when she came across One World Everybody Eats, a foundation that supports more than 60 pay-what-you-can restaurants nationwide.
"I said, 'This is exactly what we need in Raleigh' — a place where all people can come together no matter how much money you have in your pocket, no matter what race, gender, age, sexual orientation, or any subgroup that divides us," Kane says. "All people are welcome in the cafe."
After three years of development, Kane and her team are nearly ready to open at 300 W. Hargett St., the former Cafe de los Muertos space. 
Kane credits the support from businesses and individuals with making it all possible. She and her team worked with Larry's Coffee to develop a special "Table Raleigh" coffee blend to serve in the cafe. They have held pop-up events at restaurants throughout the city, where they tested out the pay-what-you-can model, shared updates about the cafe's progress and raised money. And Sean Degnan, co-owner of the Raleigh restaurants buku and soca, has provided expertise and leadership as A Place at the Table's Board Chair.
"Raleigh has been so good to us," Kane says.
Community support is instrumental in the cafe's success, and that support may come in various forms. The pay-what-you-can model provides patrons five payment options, from paying for someone else's meal to paying by volunteering in the kitchen or with clean-up.
But while the uncommon model may intrigue customers early on, Kane knows it's the food that will keep them coming back. The cafe, which will be open 7 a.m. – 2 p.m. Monday – Saturday, will serve soups, salads, paninis and more. "We're going to be an actual regular restaurant, not what people think of as a nonprofit soup kitchen," Kane says. "It's just as much for people who can't pay anything as it is for people who can pay everything."