Student of the Month: Hayden Russell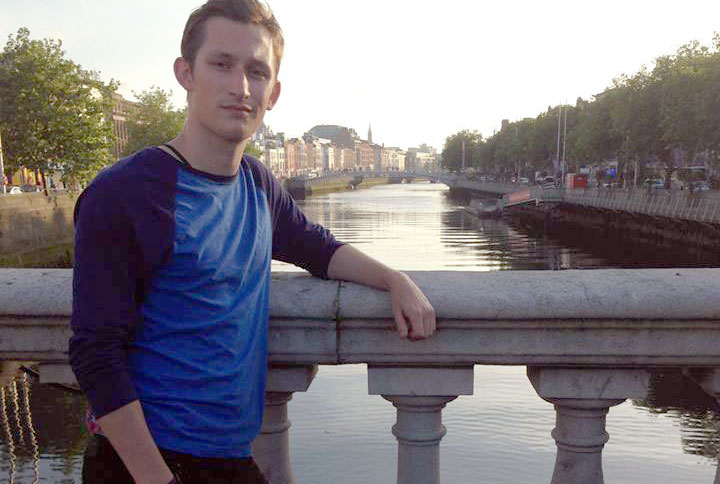 Meet Hayden Russell, Humanities and Social Sciences Student of the Month. Russell is a highly accomplished scholarship student who has excelled as a student, conducted research, studied abroad, participated in internships, and served the NC State community in myriad ways.
Hometown: Thomasville, NC
Class:  Senior
Major:  English
Minor: Classical Studies
Sample Courses:
Literature and the Environment
Gender, Ethnicity and Identity in the Ancient World
Science Fiction
Activities:
Editorial Intern, The Escapist online magazine, Fall 2015
"British Fantasy and Remediation" – Research under Dr. Paul Fyfe (English)
"Why are Gamers so Technologically Literate?" – Research under Dr. David Rieder (English)
Student Employee, NC State English Department, 2012-13, Fall 2014-present
Undergraduate Ambassador, NC State English Department, 2014-present
Study Abroad, United Kingdom, Summer 2014
Resident Assistant, NC State Housing, 2013-14
Member, NC State Game Design Club, 2014-present
Member, NC State Skateboarding Club, 2012-present
Honors:
Phi Beta Kappa
Sigma Tau Delta (International English Honor Society)
English Honors Program
University Scholars Program
Postgraduate Plans:
To teach and do research in digital rhetoric and game studies. I am applying for the Fulbright, Rhodes and Marshall scholarships, as well as digital rhetoric masters programs in the United States. I want to continue studying informal learning structures in modern classrooms – how can we engage those who may not perform as well in a typical lecture environment but respond better in digital settings?
What are some of your favorite Humanities and Social Sciences courses? Do any individuals stand out as making a difference for you?
Analyzing Style (ENG 426) with Dr. David Rieder really got me thinking about digital studies in literature and rhetoric. I also took Game Studies (COM 427) with Chris Kampe, a graduate student in CRDM (Communication, Rhetoric and Digital Media doctoral program) that framed video games in an academic manner. Both Dr. Rieder and Professor Kampe helped facilitate my personal interest in the subject, and showed me that these were not just classes, but ways to begin building a portfolio and create a path toward future goals. Additionally, I took Latin with Dr. Dustin Heinen, who kept me engaged with his humor for three semesters. I loved every minute. Latin has helped me to learn other languages; I can more easily decipher the meanings of French and Spanish written words because of my Latin knowledge.
What was the most valuable part of studying abroad?
The change in scenery was beneficial – to operate on a different schedule in classrooms with different rules and expectations across the globe. You are challenged by an environment foreign to your own. And if you are planning to go to graduate school, you will most likely go to a school different from your undergraduate institution, so it is good preparation for change.
What has been your greatest challenge so far?
I came from a rural community and had never been exposed to such diversity as exists on this campus. It was fascinating to learn about new types of people and how interactions with them could differ. Once I figured it out, I felt my eyes had really been opened and I enjoyed the experience.
What advice would you give incoming students?
Do not just go to class, but get involved with your professors. Find out what they do other than teach. Can you fit your own interests into what faculty are currently studying or examining? It is wonderful resume building to be engaged in research, so take advantage of what is already going on.