Seeking Global Strategic Partners: Travels to Uganda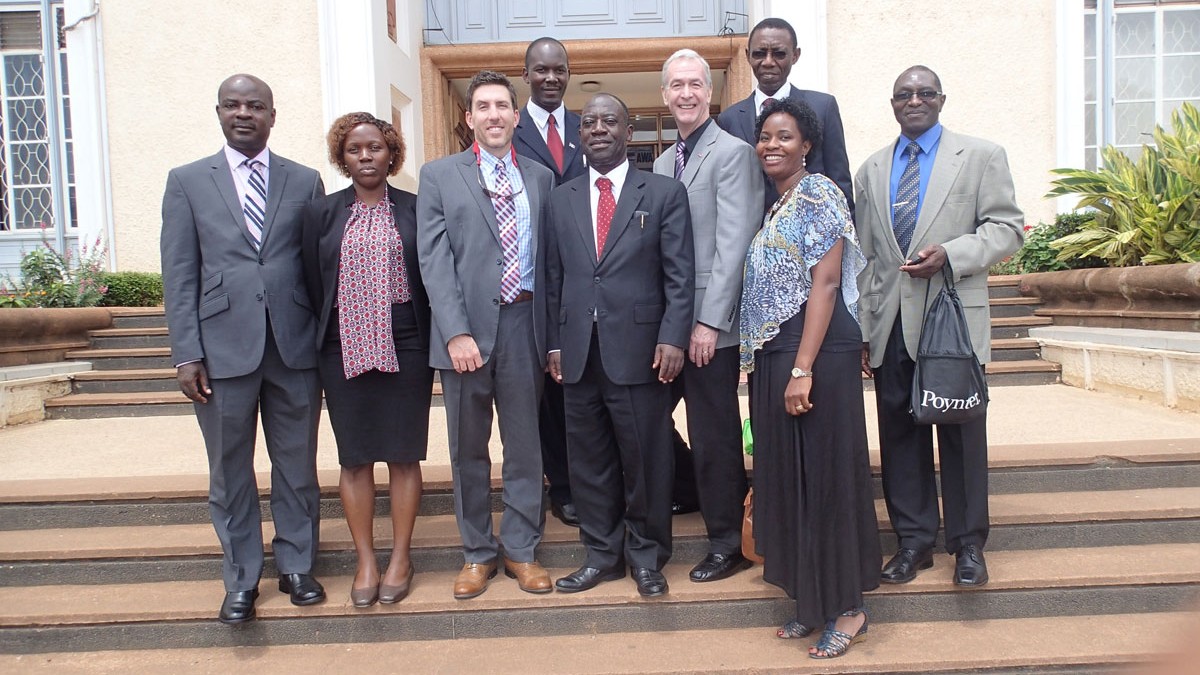 This blog post was written by NC State Humanities and Social Sciences Dean Jeff Braden:
NC State seeks out strategic partners around the globe. That quest took me to Uganda recently, where I led a university delegation to explore the potential for partnerships between Makarere University, the Kingdom of Buganda, The Aids Support Organization (TASO), and the Maamma Watali Project. My goal was to assess the resources, capabilities and needs of our potential partners in order to advise the Office of International Affairs on whether or how to proceed in developing partnerships and, if appropriate, to document them through Memoranda of Understanding (MOUs).
NC State does not lack for global partners. Our university has hundreds of MOUs with various entities around the globe. However, one of our provost's goals is to develop strategic partnerships—meaning fewer relationships that serve a small number of faculty and students, and instead have much deeper and richer partnerships that serve a wide range of disciplines and interests on our campus. While fewer, richer partnerships make sense for administrative reasons, they are also more likely to foster the key strategic goal of developing interdisciplinary scholarship and research to address the world's challenges. In other words, rather than have paper and wood scientists going to one set of universities in Africa, while crop scientists and textile colleagues go to other institutions, and humanities and social sciences students and faculty heading for yet other institutions –each pursuing their own disciplinary goals – we should instead bring a range of disciplines together to address grand challenges in partnership. Doing so will reduce administrative complexity while increasing interdisciplinary collaboration.
Of course, the trick is to find institutions and settings that provide rich options for a wide range of campus disciplines and constituencies. Hence, the reason for my visit. From a distance, the matchup with Makarere University looked promising. MU has just about all of the disciplines we do at NC State, and most are organized in similar administrative units: for example, they also have colleges of humanities and social sciences, veterinary medicine, and natural resources. MU is also the oldest and most prestigious university in Uganda, and arguably in East Africa, a region that is important for geopolitical, agricultural, and other reasons. Furthermore, NC State claims a few MU alumni among its faculty; one alumnus, James Kiwanuka-Tondo, associate professor of communication, was part of our delegation, and was instrumental in initiating the contact. The other member of our delegation was Derek Aday, professor of applied ecology in the College of Agriculture and Life Sciences.
We met with MU's vice chancellor (in universities following the British system, the vice chancellor functions as our chancellor does at NC State) as well as individual professors. Our goal was to look for places where their faculty, student and infrastructure capacity either matched or complemented our own. Over two days of meetings, we asked about and searched for common interests and capacity. As NC State's emissary, I inquired about companion animal vs. large animal vet practices in Uganda, whether they had nuclear engineering and data analytics, and what they did in fashion and architecture. In nearly all cases, they were interested, although they often had more interest than capacity.
I found great potential for non-university partnerships as well. The Maamma Watali (literally, "in the absence of mothers") project, founded by a woman whose mother and two sisters died in the ravages of war and HIV/AIDS that swept Uganda's Loweero district from the late 1970s through the mid-2000s, showed possibilities for combining disciplines as diverse as HIV/AIDS communication (James Kiwanuka-Tondo's speciality), oral history, water resource management, micro-lending and sustainable organic farming areas. The needs of the area are great, and the promise of a comprehensive site where we could coordinate study abroad, service learning, research and scholarship was truly exciting.
Which brings me to the highlight of the trip—a meeting with ministers of foreign affairs, agriculture, tourism, land, education and the second deputy for Buganda at the Bugandan Parliament. The primary point of discussion was to secure a gift of land from the kingdom to build facilities to house visiting scholars and students, provide preventive and primary health care, a civic meeting area, and a library to house books we have already given—and perhaps more importantly, the HIV/AIDS communication materials and the oral histories of the elders of the region we hope to create. All agreed that a grant of 15-20 acres for initial investment and development was the best place to start, and could be followed by additional grants for land appropriate to specific projects (e.g., aqua culture would require different land configuration than a community chicken coop).
Although I was buoyed by the content of the discussion, what struck me most was that the meeting opened and closed with all in attendance (at least, those who knew the words in Bugandan!) singing together. It was quite striking and moving to see the group do so without a whiff of self-consciousness. I could only imagine what would happen if we sang "Where the Winds of Dixie Softly Blow" at the beginning and end of each of our meetings.
Our delegation concluded the trip with visits to such historic and cultural sites as the source of the Nile River and the colonial capitol of Entebbe. As we shared dinner before heading home, one of the grand challenges impacting Uganda made itself evident. Two years earlier, Derek and James had eaten at the same restaurant on the beach of Lake Victoria—but the water level of the lake had completely covered where they had been seated. The increased rise in the level of Lake Victoria threatens communities, habitat and more. The case for collaboration could not have been more compelling.