Busy Turning Dreams into Reality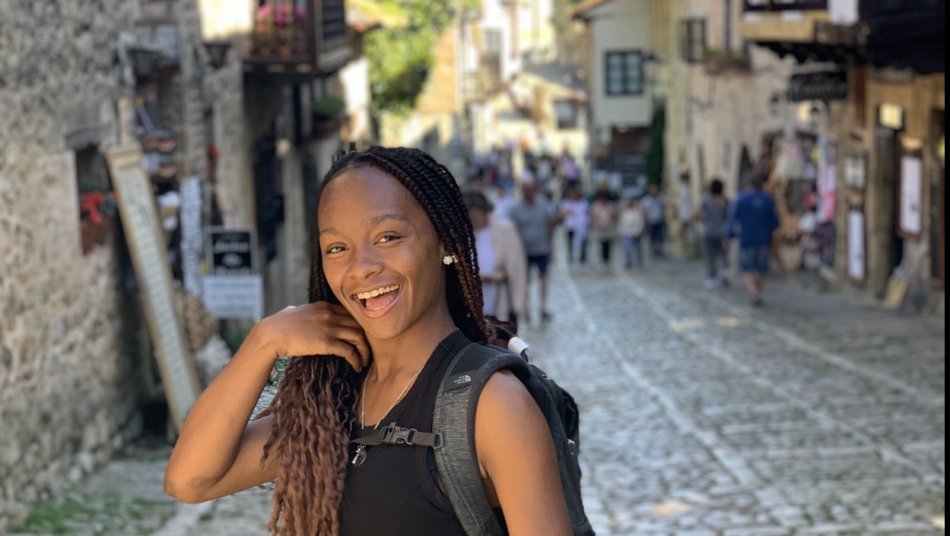 The word busy hardly seems adequate to describe NC State junior Toinette Powers' schedule over the past couple of years.  
In 2018, she spent a week in New Orleans' Lower Ninth Ward with classmates, finishing a house for a man who had been helping neighbors recover from Hurricane Katrina damage for over a decade.
This past March, she was part of a group that experienced more than two dozen cultural and historical sites and events across London, met local leaders and NC State alumni, and got an up-close look at the public debate over Brexit.
Powers has taken service-learning trips to places ranging from North Carolina's Valle Crucis to Mexico's Guadalajara, gained important mentors, and been involved regularly in hands-on programs about leadership, research skills, financial planning and much more.
She has worked part-time at the front desk of Multicultural Student Affairs in Talley Student Union and many days, she has spent hours rehearsing with the student dance group DanceVisions.
This fall, she's spending the semester in Spain with the support of the Congressionally funded Benjamin A. Gilman International Scholarship.
And central to Powers' calendar, of course, is her academic work as a College of Humanities and Social Sciences student, double majoring in international studies and psychology with a minor in Spanish.
"One of the reasons that I realized NC State was the place for me was the resources, along with the diversity and inclusion," Powers said. "The university was willing to contribute to my educational opportunities – people said to me, we see your potential and we want to help you get there."
Philanthropy has helped power many of her NC State experiences, while providing tangible support for needs such as a computer purchase. She's a member of Caldwell Fellows, the university's longest-running campuswide scholarship program, and flourished in the Shelton Leadership Center-based Chancellor's Leadership Development Program, which is aimed at empowering first-generation and rural students during their first two years on campus.
Another major resource has been Pack Promise. Started more than a decade ago, this initiative is designed to increase access to an NC State education for North Carolina residents, regardless of family income. Pack Promise provides qualifying low-income students with an aid package that meets 100% of their financial need, through grants, scholarships, federal work-study jobs and loans of no more than $3,500 per year.
"I'm the oldest of four kids of a single mom," Powers said. "Overall, growing up, the idea of going to college wasn't so totally out of reach due to there being scholarship opportunities, but it also wasn't likely. I saw the struggles my mother went through, and I knew that I had no choice but to go to college in order to obtain a better life."
A graduate of Thomasville High School, Powers started researching universities, but she had her eye on NC State from the start because several of her teachers were alumni. The more she learned, the more interested she became, but she wasn't sure she could meet the costs. 
"Without Pack Promise, I probably wouldn't even be here," she said.
She also became involved in TRIO offerings, including her selection for the Ronald E. McNair Scholars. This federally funded program paves the way toward doctorates for underrepresented, first-generation and financially disadvantaged students. McNair Scholars opens doors to research opportunities and mentors, and provides academic and stipend support.
"I had no clue where to even start – should I just walk up to a professor and ask to help them?" Powers said. "The McNair Scholar Program has already given me a lot of skills and support. This past summer I was on campus working with Dr. Kelly Lynn Mulvey, an assistant professor of psychology on several projects then next year I'll be somewhere else. I'm excited that it should help me focus my future interests."
Overall, Powers loves NC State's diversity and energy, and the chance to move beyond her comfort zone. She feels like she's part of a big family of students who are different yet share common goals of improving themselves and making an impact on the world. 
Her experience abroad this semester is giving her the opportunity to be completely immersed in another culture, living with a homestay family and practicing her Spanish while attending classes.
NC State is helping pave the way for Powers' wide-ranging dreams. Eventually, she'd like to own her own business. She also hopes to lead an international nonprofit called Sisters Striving toward Success that would help young women prepare for a better future.
That particular goal, Powers is already pursuing. She works with middle school girls considered "at risk" at downtown Raleigh nonprofit Neighbor to Neighbor.
"I want to help them realize you design your own life. You are in control," Powers said. "Sometimes without a mentor it can be hard to see that you can have a better life."
Dreaming of possibilities — and pursuing a busy schedule to make them reality — is a standard she hopes to set for her younger siblings too.
"I'm forever grateful for how much NC State puts into their students," Powers said. "I've been able to be a part of so many activities and adventures, things like service-learning trips, at low or no cost. I wouldn't have those opportunities without alumni and others who contribute as donors."
This post was originally published in Giving News.