Semester in Spain Challenges, Inspires Undergrad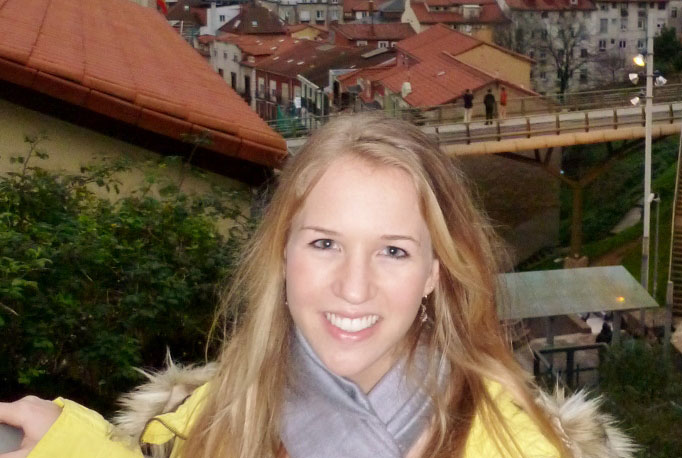 Studying abroad allows students to apply their learning to the real world, as they gain first-hand experience with other cultures, languages, traditions and people. It also teaches students a lot about themselves as they navigate new, unfamiliar environments.  This Q&A highlights how Humanities and Social Sciences students have incorporated study abroad into their undergraduate career.
Megan Hornbeck is a senior double majoring in Communication Media and Spanish Languages and Literatures. Her study abroad in Spain enhanced her cultural awareness, challenged her to navigate a new environment, and shaped her future goals.
Who sparked your interest in study abroad?
My high school Spanish teacher is the first person who mentioned studying abroad. I was very interested in the cultural aspects of her lectures, so one day she pulled me aside and told me about the opportunity. Ever since then, I made it my goal to study abroad in college.
Briefly describe your experience.
 I studied abroad in Santander, Spain, during Spring 2013. I took 15 credit hours of Spanish classes at La Universidad de Cantabria, helping me to complete my minor. I lived with a host family that included a mom, grandma and two brothers. Living with a host family is beneficial because you experience authentic traditions and culture that you wouldn't get if you lived in your own apartment. While I was abroad, I worked with an elementary school and taught English classes every other week. It was a great way for me to be an ambassador for America, practice Spanish, and connect with children to become passionate about learning English.
How do you feel the study abroad related to your major, career goals, and personal interests?  
I am a communication major, so interacting with people is something I love. It was a challenge to live in a small community where nobody spoke English, but it highlighted the importance of nonverbal communication. For the first couple of weeks, hand motions and facial expressions were my specialty! When I returned from Spain, I added Spanish as a double major. This was not my intention before I went abroad, so you can say that studying abroad made a huge impact on my future. During Fall 2013, I continued my ambassadorial role in America and started working with NC State's Intensive English Program. I taught an American Culture class once a week to international students in the program. Now I am a part-time employee and intern with IEP, learning a lot about ESL programs and international relations. Studying abroad also made me catch the travel bug: as of October, I am a Fulbright Scholar applicant to teach English in Ecuador for 10 months. I won't hear back from the program until April, but for now, I think it is safe to say that studying abroad was the stepping stone to this decision.
What are some things you learned?
I learned that I am capable of being a lot more independent than I realized. I traveled almost every weekend and made my own arrangements in foreign places. I also learned that the Spanish lifestyle might seem lazy to an average American who works from 9-5, but in my opinion, the quality of life is a lot better in Spain. Time spent with family and friends became a priority and it was very hard to return to the American lifestyle. While abroad, I met people from so many different countries and it shocked me when they knew two or three languages and had studied abroad multiple times already by the age of 22. I feel that is an aspect of American education that could be improved. If students learned one more language or visited one more country, they would be a lot more culturally aware and open minded.
What were some of the challenges?
The language barrier between my host family and me was pretty difficult to overcome, especially when I didn't feel well and needed medicine. But looking back on the experience, my greatest challenge was the culture shock upon my return to the United States. Everyone was in a rush, and I really missed the friends and family that I met abroad.
What were some of the rewards?
I use my experience abroad in job interviews and applications. It is very rewarding to realize that the time I spent abroad is appreciated in the work world. I am more understanding of people from different cultures, and my patience with people has improved dramatically. I also now have very close friends in many different countries, and it is great to think that I have somewhere to live and someone to travel with when I go abroad again.