Communication
Communication Alumni Forge Career Paths from Capitol Hill to Tech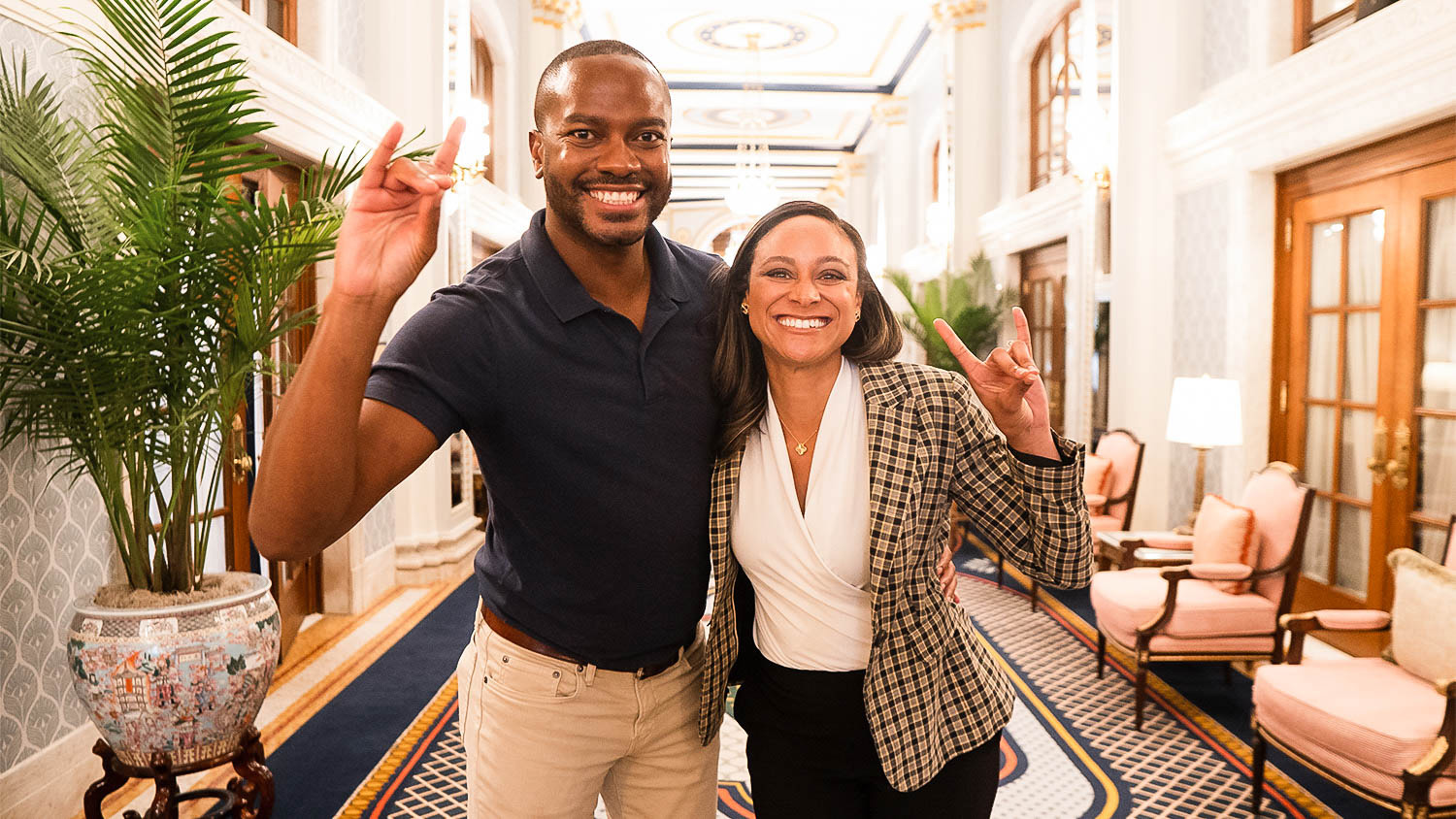 After graduating four years apart, NC State communication alumni Ryan Daniels and Meaghan Lynch forged similar career paths. They have been advising leaders from the White House and Capitol Hill to the C-suite of tech companies.
These are their stories.
Daniels entered NC State aspiring to become a TV news anchor and worked at WKNC, the student-run radio station, to help reach that goal. But after one political communication class, he knew "that was a better career path for me."
Taking classes that combined both subjects was "super interesting and news-focused," he says. "Learning the work that goes on behind the scenes in politics," he adds, "set me up well to go to Washington D.C. and do political communications."
Soon after Daniels graduated in 2007 with a bachelor's degree in communication and media, he landed an internship on Capitol Hill. Serendipitously, it turned into a position as a press assistant for Congressman and Majority Whip James E. Clyburn of South Carolina.
From there, Daniels did a stint at a public relations firm in Washington D.C. But politics soon beckoned once again.
In 2012, he worked for the National Democratic Convention in Charlotte as a deputy press secretary. That was followed by what Daniels called an amazing, historic opportunity — to work for the Obama/Biden reelection campaign. He went on to work as press secretary for the U.S. Department of Transportation, and then as a spokesperson for the U.S. Department of Treasury.
Later, he served as associate director of communications for White House Senior Advisor Valerie Jarrett and the Office of Public Engagement and Intergovernmental Affairs during the Obama administration.
"Working for the first Black president was a dream come true," he says.
Then, he returned to Clyburn's office as deputy communications director.
Daniels now serves as public affairs manager at Meta. There, he advises corporate leaders how to strategically and effectively communicate their message.
"It has been a wild, wild ride," he says. "I've had a lot of opportunities and great experiences over the years."
Lynch started at NC State as a double major in history and psychology but quickly swapped history for communication. "The best advice I received was to choose a major you are passionate about and you will succeed," says Lynch, whose career plan always included attending law school.
What she is passionate about is supporting others. "Even as a young girl, I was that outspoken kid in class, for better or worse, who was into advocating for others," she notes.
Lynch graduated from NC State with bachelor degrees in psychology and communication in 2011 and a law degree from Howard University School of Law in 2014. After that, she worked several years for now-retired Congressman G.K. Butterfield of North Carolina.
During her time there, Lynch held various communications roles — starting as an intern and advancing to communications director and counsel. As such, she had the opportunity to focus on important issues of the times, including bringing jobs back to North Carolina.
"I wanted to work in government, in politics, and to use my voice to represent the interests of people in my community who look like me, like my family and friends," Lynch says. "Getting involved was very special to me. So, I gravitated to Capitol Hill."
"After that, things just started rolling," she adds.
Lynch also worked as deputy communications director for then-Senator Kamala D. Harris — a time she describes as exciting, fun and incredible. "It was really special and personal to talk about the issues she faced and the priorities she held while in the Senate," Lynch says.
She followed Harris to the Biden Administration, working as press secretary at the U.S. Department of Housing and Urban Development and as an aide to Secretary Marcia Fudge. The role, she adds, grew her interest in getting into housing policy.
The move proved to be strategic. Lynch now works in federal public policy at Airbnb. There, she helps share Airbnb's policy priorities in Washington, D.C.
Both alumni say NC State prepared them to work on Capitol Hill and in the tech world.
"Choosing communication as one of my majors was the best decision I ever made," Lynch says. "Having that training applies to every work environment and industry; it is valuable and enables you to pivot into other opportunities."
Daniels says NC State is where he discovered his passion for political communication and his career path.
"I feel very lucky and grateful to NC State for everything I've been able to do given the education I received," he adds.