Year in Review: Our Top Stories of 2019
2019 was full of honors, outreach and new beginnings for NC State's College of Humanities and Social Sciences.
Our students are helping solve real-world issues. Our faculty members are being recognized at the national level. And our alumni are paving the way for generations to come. We couldn't be more proud.
Take a look at some of our top stories of the year.
Walt Wolfram, an NC State professor of English, is a pioneer in the field of linguistics. He founded the Language and Life Project in 1993.
Walt Wolfram, a professor of English and director of the Language and Life Project, became NC State's first non-STEM professor to be inducted into the American Academy of Arts and Sciences. Wolfram has published more than 20 books and 300 articles. His first project with the academy, "The Public Face of Science," studies society's relationship with scientists, research and discovery.
"Walt's induction tells the rest of the world that NC State takes a back seat to nobody when it comes to excellence in all fields of scholarship — including the humanities," says Jeff Braden, dean of the College of Humanities and Social Sciences.
The College of Humanities and Social Sciences raised $345,233 as part of NC State's first Day of Giving. Your support helps us recruit top students, opens doors to study abroad and empowers our researchers. Our alumni helped spread the word by sharing photos and stories from their experiences on campus and beyond.
We hope you will consider a gift and help students think and do the extraordinary during next year's Day of Giving: Mar. 25, 2020.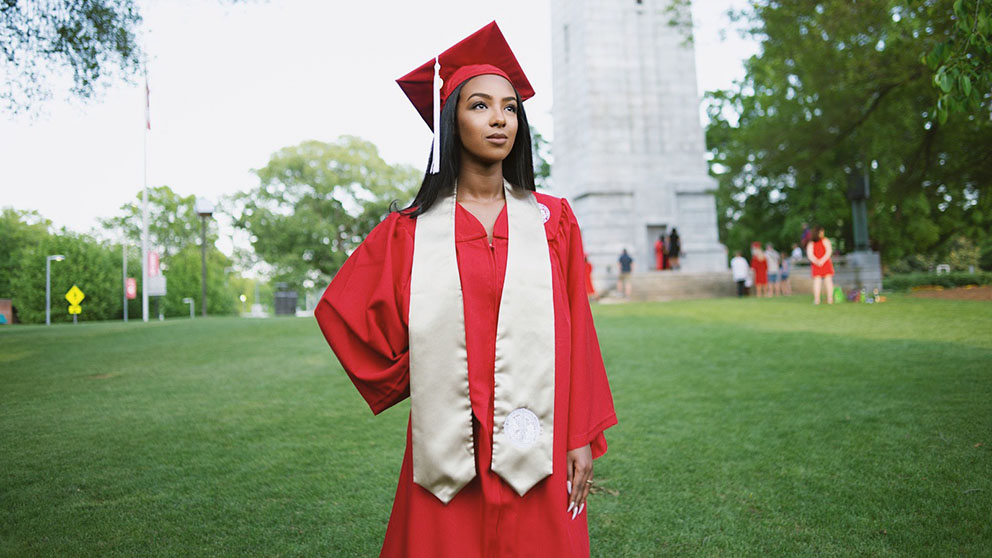 Communication major Ruhama Wolle shared an important message with her 5,713 fellow graduates on May 11: make mistakes early in life.
During her spring commencement speech, Wolle touched on her journey from Ethiopia and her experiences as a transfer student. She says it was her mistakes that allowed her to pause, reflect and move forward in a positive way. Wolle graduated summa cum laude.
"Each semester, I walked away knowing a professor who worked with me one on one, who helped me hone in on research, who helped me find an internship," Wolle says. "I was guided every step of the way within the department."
A collaboration with NC State's Khayrallah Center for Lebanese Diaspora Studies and the Lebanese Association for History in Lebanon brought teachers to campus this summer to learn about the latest public history scholarship on Lebanon and to master new, innovative tools to develop public history.
During the two-week program, teachers participated in daily workshops and one-on-one mentoring sessions with NC State professors. Workshop topics ranged from Lebanese environmental history to open source teaching tools, documentaries and podcasts.
"This is critical to take knowledge and put it in the hands of people back in Lebanon. It's vital information to understand what Lebanon is, how you shape it," says Akram Khater, director of the Khayrallah Center. "It is part of our duty, our responsibility, not to remain in an ivory tower."
In September, the College of Humanities and Social Sciences launched the Wolfpack Writers series to highlight new faculty and alumni books. Representing an array of disciplines, our writers give us a behind-the-scenes look at their busy lives and how NC State has shaped their writing.
The series is also featured on the college's Instagram page.
Six NC State students took to the national stage in September to address a crisis impacting college campuses across the country: students are at risk of hunger and homelessness. The national Closing the Hunger Gap conference was attended by more than 500 representatives of food banks and other nonprofits.
Their presentation was an outgrowth of research that a team of our students, faculty and staff conducted over the past 18 months. The students, who were able to attend the conference through the generosity of NC State donors, aimed to teach attendees how to increase community resources, decrease obstacles for students in need and confront the stigma of seeking help.
Sam Chan, a senior double majoring in political science and communication, was named the 2019 recipient of NC State's Leader of the Pack scholarship. The award program recognizes students who make outstanding contributions to the university in the areas of leadership, scholarship and community service.
Chan serves as a mental health ambassador on campus and co-host of #PassTheMicYouth, an NC State Extension podcast and blog about youth activism. She's also the founder of the Exploring Mental Health in the Asian Pacific Islander Desi American (APIDA) Experience event, which is entering its third year. Chan joins a growing list of College of Humanities and Social Sciences students who have won the award since 2016.
Jane Rogers (English '69) was named the College of Humanities and Social Sciences 2019 Distinguished Alumna. She has more than 40 years of experience developing and leading nonprofit, educational, governmental and for-profit organizations.
Following an expansive career, Rogers returned to NC State, immersing herself as an active volunteer in the college. She serves on the Dean's Board and is an adviser and mentor in the Institute for Nonprofits. Rogers has established a planned gift to support students' access to international study abroad opportunities and to provide leadership opportunities to students engaged with our state's social innovation nonprofit sector.
Renowned author Margaret Atwood visited NC State's campus in November. Her visit included a group discussion with College of Humanities and Social Sciences' students and faculty, where questions ranged from who should have access to what knowledge and the role of fiction in exploring the world of human genetic experimentation.
Atwood also gave a sold out keynote speech titled "An Evening with Margaret Atwood: Literature to Explore Our Genetic Engineering Futures" and visited a groundbreaking new art exhibit at the Gregg Museum of Art and Design.
NC State's Department of Social Work is helping tackle the nationwide opioid crisis, with support from two grants totaling $2.24 million from the U.S. Department of Health and Human Services' Health Resources and Services Administration (HRSA).
A $1.34 million grant will help train 84 master's level clinical social workers over the next three years to work with those struggling with addiction. A separate grant of $899,000 will prepare paraprofessionals in community-based settings to provide addiction-related services.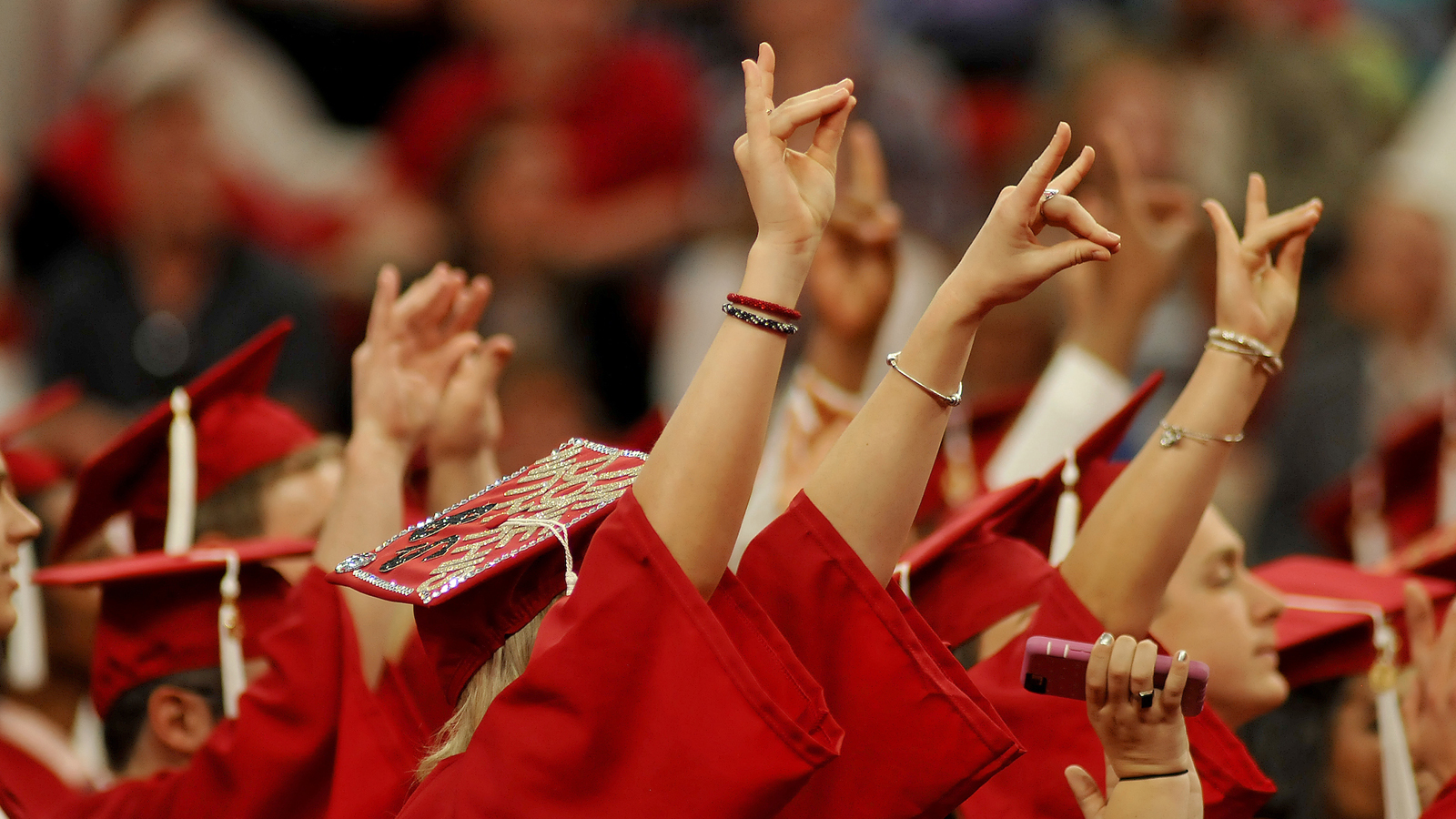 Each year, thousands of students turn their tassels at PNC Arena, marking the end of their journeys at NC State. But in many ways, it's only the beginning.
We caught up with some Humanities and Social Sciences students who were chosen as fall 2019 commencement speakers in their respective departments. They come from far and wide, each offering a unique perspective as members of the Wolfpack.